Normanby Lad Faced Fiery Fred
I was born in the Stapylton Arms in 1931 and emigrated to USA with my family in 1948. I played cricket from 1957 to 1980 at the West Potomac Park field in Washington DC.

After winning the county cricket championship in 1964, Yorkshire CC team toured the USA and Canada.

In Washington, the match was played in West Potomac Park, very near to the Tidal Basin and the Jefferson Memorial. The Potomac River is very close, Freddie Trueman making a statement that he would hit a ball into the river: he tried but never did hit a ball that far. The photograph opposite shows the trees and the Potomac River is beyond the trees, if Fred had put a ball into the river it would have been quite a hit.

Our British Commonwealth CC team played against the full Yorkshire team - and had them 96 for 6 until Illingsworth came in and hit 103 supported by Binks (69) and Trueman (20) - and so Yorkshire scored total of 350. We were no contest for fiery Fred - he took 4 quick wickets including me (credited for a duck when I actually edged him through the slips for 4). I was caught by Richard Hutton in the slips. Bowling I did get Doug Padgett. Anyway, quite an experience to play Yorkshire.

The top photograph opposite shows the red and white striped Marquee that the British Commonwealth Cricket Club rented and finally bought from the vendor. President Kennedy rented the same marquee for White House events.

The bottom photograph opposite: in the background was the White House rose garden, and the temporary World War II building housed the Central Intelligence Agency (CIA). We had no idea that the CIA could watch our games without any fancy gadgetry. When the CIA moved to Langley, Virginia the roses were also moved to another location in Washington, DC.

Tea and refreshments were made by the wives of the players and brought to the field in coolers. That evening, the British Embassy invited the Yorkshire ensemble, local players and their wives for cocktails, which was hosted by the Ambassador. Brian Close spoke and then called on Fred Trueman to tell a few jokes many of which were very good although some maybe not liked too much by the embassy!.

The local families housed the players. The next day the Washington players chauffeured the Yorkshire players to the Capitol, around the White House grounds and to President Kennedy's gravesite in Arlington cemetery. It was my pleasure to show Jerry Binks around Washington.

In the photograph M. Ryan is second from the left, myself (Richard White) fourth, Richard Hutton fifth, then Jerry Binks, Don Wilson, Ray Honda, Doug Padgett and Ray Illingworth.

Photos are from a booklet that Yorkshire CC put together after their tour.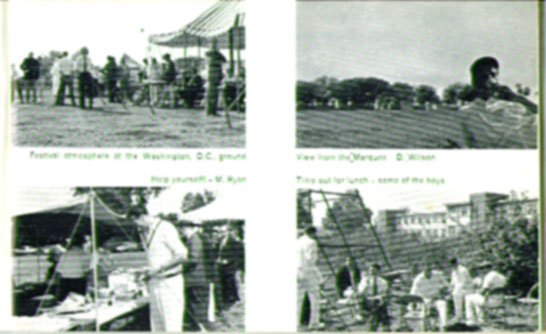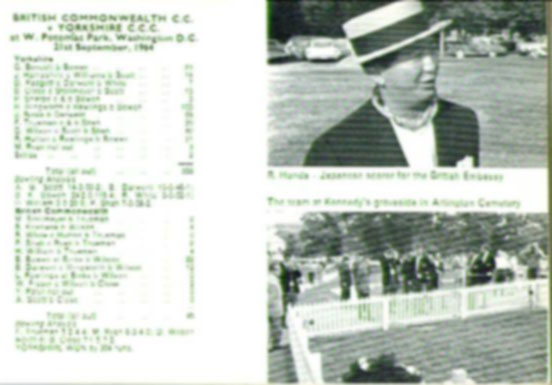 I was not the only Yorkshireman in our team when we played Yorkshire CCC. Also on our team was Tony Scott from Harrogate.
Richard White IV (Adamsville, Tennessee)
© 2011 Richard White IV. Normanby History Group